Hey everyone,
So I just uploaded my perfume collection but I didn't do a full review so I will do one. I will link the video at the end of the page.
Viva la juicy by Juicy Couture-
This is such a cute perfume it's also nice and girly I adore it. It smells sweet, fruity and floral so their are a lot of different scents going on. It doesn't last long or linger on your skin. The body lotion that comes with it is good and lasts long so I would say you should put the lotion on then the perfume. This scent it like a classic well what I mean is every Beauty fanatic owns it. Maybe it's because it Juicy Couture or the cute bottle I don't know but it is so popular.
Notes- Honeysuckle, Gardenia, Jasmine, Wild Berries, Mandarin, Amber, Caramel, Vanilla, Sandalwood, Praline
Britney Spears Fantasy-
Everyone owns this perfume! Yet, again I go for a really popular scent because you know it's going to be good. I got this scent today. It smells like cupcakes with a twist. It's got a cute bottle and looks nice and fun on your dressing table. As it's studded with crystals and is a lovely pink colour. The in locking rings at the top are to represent everlasting love.
Notes- Red Lychee, Golden Quince, Kiwi, Musk, Orris Root, Sensual Woods, Jasmine Petals, White Chocolate, Orchid
This is one of the first real perfumes I got. And I still love it now. I have almost used it all up. The bottle is like a genie bottle it's all different colours. It's affordable as well and smells good which is always a bonus. If your younger this is a great perfume for you.
Notes- Peony, Pineapple, Vanilla
Thierry Mugler Womanity-
This is a nice perfume but not my fave. I've finished my bottle up though but it's not a womenly scent weirdly it smells like aftershave. I find the bottle intresing and unique and it looks cool. Just the scent the notes include caviar e
www.
Notes- Citrus, Green Notes, Chutney, Black fig, Caviar, Sea Water, immortal, cedar, vetiver, opoponax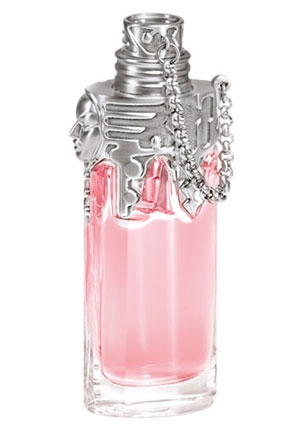 Dolce&Gabbana Light Blue-
I'm not too keen on this anymore. It does have a nice scent it's sort of citrus and spice. It's a bit too unique for me if I'm honest. I like my super sweet girly scents. This is a nice 'holiday' scent I guess. Just as well I bought 25ml because I don't use it that much. It has a nice simple bottle though.
Notes- Granny Smith Apple, Sicilian Cedar, Cedarwood, Amber, Musks, Jasmine, White Rose, Bamboo
Avril Lavigne forbidden Rose-
I love this scent! It's amazing it's not like other celebrity perfumes. It smells floral but with some deeper, darker notes. It's really unique like the creator. It has a lovely bottle and a rose for the top. I wear it so much it's a really wearable scent. I would say that you could were this when you 10 and even 40. You could pull it off!
Notes- Red Apple, Pepper, Peach, Lotus, Heliotroupe, Granny Smith Apple, Sandalwood, Vanilla, Mexican Chocolate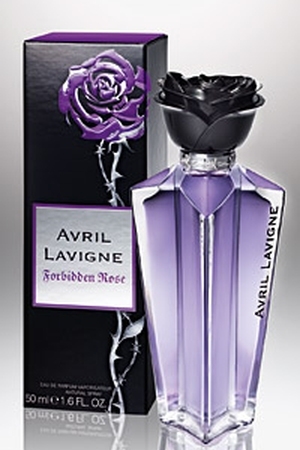 Sample Wonderstruck Taylor Swift-
I forgot to show this perfume in my collection. It's only a tiny sample but I'm getting good use out of it. It smells amazing sort of sweet and smells a bit like grapes. I love the full size bottle as well. It lasts long on your skin as well. I don't have the full size so I can't really judge it.
Notes- Hawaiian White Hibiscus, Honeysuckle, Mimosa Flower, Vanilla Whoopee Pie, Freesia, Green Tea, Apple Blossom, Raspberry, Dewberry, Amber, Sandalwood, musk, peach
My Harjuku Lovers Collection...
Harajuku Lovers Original G-
This was my first ever perfume! It is the Original G. She's smells lovely and looks cute I love her. I still have her now on my dressing table. She smells lovely on your skin I have almost used her up. That's good though because I have had her for 3 years.
Notes- sandalwood, apple skin, jasmine, white cottonwoods, coconut cream, magnolia, freesia, mandarin
Harajuku Lovers Wicked Style G-
I love this scent and a lot of my friends wear it. It's a very fresh and fruity scent and smells great on the skin. The Wicked Style collection is so cool as they all have cool velvet heads. I do really love this simple, girly scent though. I do wish the watermelon was stronger as I love watermelon scents.
Notes- apple, peach, pineapple, melon, peony, tuberose, raspberry, musk, aquatic notes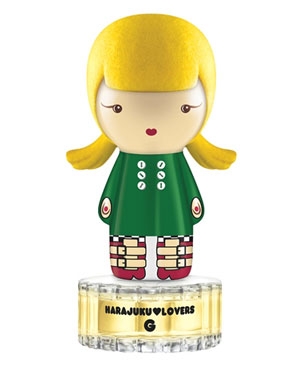 Cute or what! OMG! I thought they couldn't get any cuter. This is sooo fruity though some people say it has a mix of floral too but it doesn't. She has a cute little spots and stripes outfit on. A cool thing about this is the writing on the bottle is blue which I found cool for some reason.
Notes- Pineapple, Mandarin, Freesia, Banana, Musk, Vanilla, Raspberry
Harajuku Lovers Jingle G-
This smells like Christmas. From the pine tree to the candy canes. It smells lovely on your skin and as it's getting colder it's perfect. It makes you feel warm inside. It's a Strong scent that you can smell of your skin. She has nice warm rosy cheeks and is wearing a Santa costume. It has this little hook thing to hang from your x-mas tree.
Notes- Gardenia, Tangerine, white Star Fruit, honeysuckle, jasmine, orange blossom, vanilla, cedar, benzoin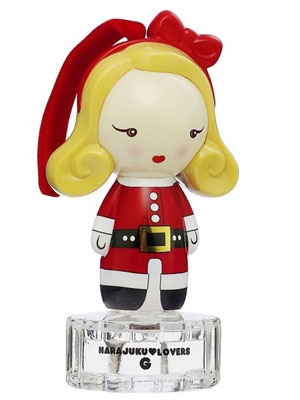 Harajuku Lovers Sunshine Cuties Love-
This I was lucky enough to get for FREE! I got it free because a lady that worked in boots said that they couldn't sell them anymore cause they were limited edition and gave me it. She has the cutest hair and sunglasses like ever. I love love love her. She smells fruity but not overly fruity so that's always a bonus jonas.
Notes- Nectarine, Passion Fruit, Lemon Blossom Plumeria, Osmanthus, Rose Petals, Vanilla, Orchid, Coconut Water, Sensual Musk, Sandalwood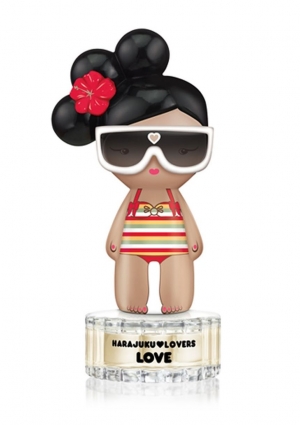 Harajuku Lovers Sunshine Cuties Music-
When I smell this I feel like I'm at a really clean, sunny beach a bit like when I went to Poole Sandbanks beach. It smells fresh, clean and like a cool splash of water. I know that sounds weird. It smells as if it has maybe like water notes in it to me.
Notes- Juicy Pear, Granny Smith Apple, Dewy Freesia, Tiger Orchid, Jasmine Petals, Honeysuckle Base: Cashmere Woods, Creamy Musk, Precious Woods