Hey everyone,
So this is just an early gift guide for her. It's perfect to get a friend, teenage daughter, mum and even wife. Some is a cute little stocking filler and some are things I would die to get.
Ted Baker The name on every ones lips-
This is the one thing I'm always eyeing up in boots. I think it's a boots exclusives but I just think it's beautiful. The packaging does but also the colours. It is kind of like the Clinque Chubby Sticks. They're only £15.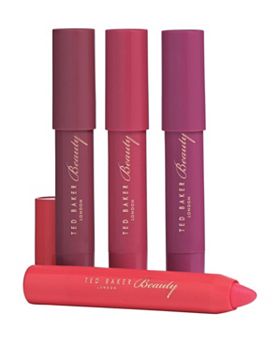 New look Pink Pom Pom socks-
You always need to get socks, slippers, dressing gowns, etc for Christmas. These are fluffy cute socks I think they are CUTE! It has grips on the bottom so you can't slip on the floors. They're only £2.99
New look Grey Owl Sparkly Owl Ear Hoddie-
This is the cutest hoddie ever! This would be great to wear to keep cosy around the house or even outside. I love how it has the cutest little ears on the hood. It's £16.99

Hollister So Cal Pink Scarf-
I love these cool loop scarfs they are cute and easy to put on. I really like the Hollister scarfs this feels so soft. Pink is my favourite colour so I would pick this colour but you can get other colours and prints. It's £24.00
Vivabox Perfume Selection-
This is so cool! It's a great way to try out new fragrances. I really want this it's a better gift than getting just one big perfume. This is only £34.99 it's good for getting to try out 7 perfumes (Juicy Couture Viva la juicy, Nina Ricci Nina, Lacoste Touch of Pink, BOSS Orange, Very Irrésistible Givenchy, Elizabeth Arden Red Door, Paco Rabanne Lady Million)
17 bronzing kit-
This is a really good kit for everyday, since it's winter you can't get tanned easily. I think all the products look amazing and it's a nice cheaper gift. I would really want this from a friend. It's only £12.00.
Soap and Glory Sexy Kohl eye kit-
I have wanted this for ages. I don't have many eyeliners so this is perfect. Soap and Glory is amazing quality as well.
Aroma Home Snuggle Hottie Microwavable Owl-
This would be so nice for a cozy day in or when your sick. It's sooooo cute! It's also a nice gift for a friend or sister. I think it's pricey for it though it's £20.00
Lots of Love,
Lucy xox