Hey everyone, today I am talking about the fashion and makeup at the Grammys. Who did you think made a statement at the Grammys ?
This is what I thought:
Adele wearing Giorgio Armani gown- Wow she looks amazing! First of her makeup.Her eye makeup was very subtle but the bold red lips were making the look happen. Her hair style is pretty with the blond curls i think it looks great with the black gown. Now for the fashion. Her black gown looks amazing as it flatters her figure and makes her skin look perfect. The sparkles make it look even better bringing the whole outfit to life. I am so happy for Adele winning 6 Grammys. Even fashion police agreed she looked flawless.
Love it!
Katy Perry in Elie Saab gown- Hmm... First of makeup. I like how she teamed the pale blue with her pale pink lips it's nice. Her eye makeup i don't know if you can see in the photo is nothing to talk about. Her back hairdo isn't going well with this outfit i think she should have had it down in curls or something. Also i don't like this match your dress to your hair thing. The dress itself i don't like it's to over the top. I like the colour and detailing but not the shape. It is unflattering her as well. I love Katy perry but not this look I am just telling the truth.
Hate it!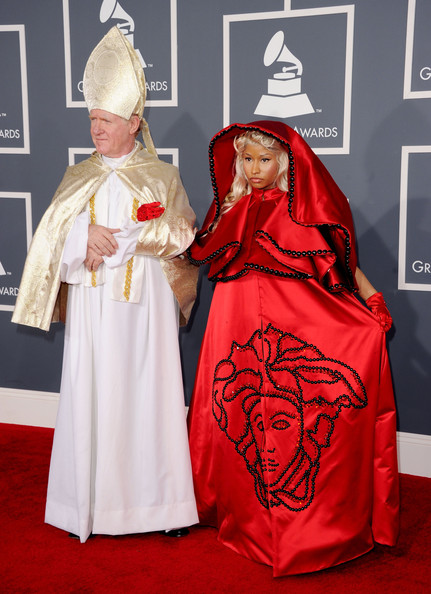 Nicki Minaj wearing Versace - A Pope Nicki Minaj WHAT! First the makeup I have had a long hard think about this and think she looks dead. Her makeup is plain and the face she's pulling makes it even worse. I love Nicki Minaj when she is colourful and creative but not this time. Her hair looks messy and the blond hair looks really bad. I adore Nicki Minaj she is my idol but i don't love the look. The dress is strange as well with it ruffled at the top and big at the bottom. I think the Versace logo makes it look tacky as well. She kind of looks like little red riding hood. Nicki what were you thinking ?
Hate it!
Paris Hilton wearing Lebanese- Pretty perfect! Makeup wise she has peachy pink lipstick on with is really pretty with her dress. If you look at her eye makeup up close it's really pretty I look i would wear. Her hair is to die for a classic messy bun looks very sleek and pretty. The dress was stunning on her figure and very elegant. The skinny small belt made the look. I noticed the massive rock on her finger and her earrings they are beautiful.
Thanks for reading
Lucy xx